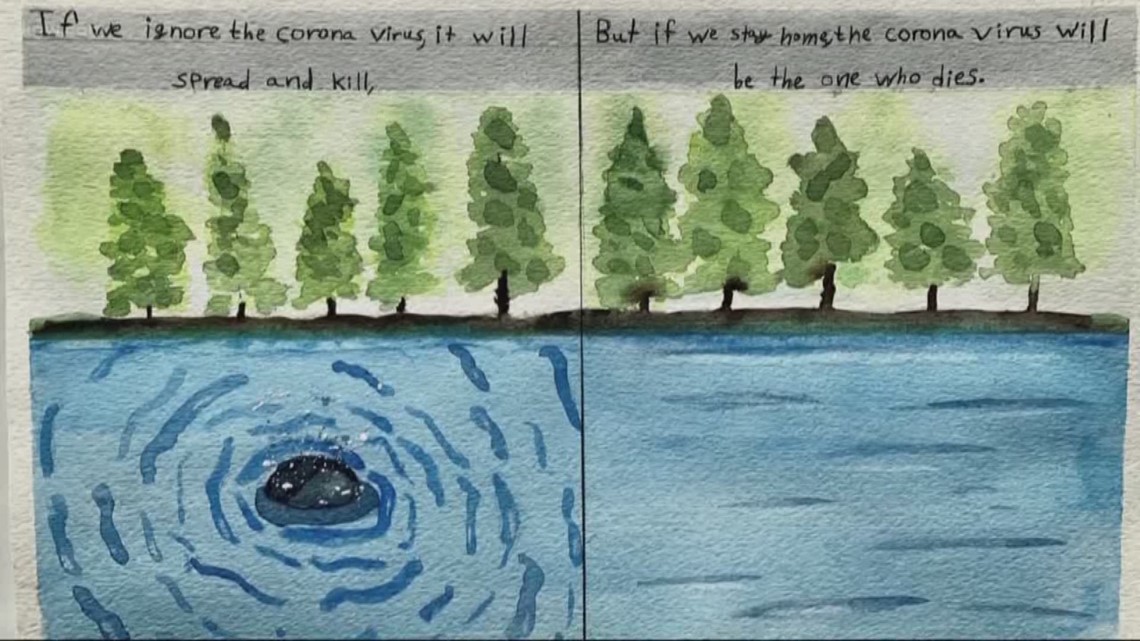 LAKE OSWEGO, Ore. — For most kids, the days may look the same as they always have. 
"I've been playing video games, watching TV…been doing homework, and reading a lot," said 11-year-old Matias Jaramillo.
"It's been kind of boring not seeing my friends, but on the contrary I've been with my family a lot and it's been kind of nice," he said. 
His mom, Eugenia Alvarez, is a local artist that caught wind of an art contest put on by Dr. Chris Cirino and Adventist Health. As part of Dr. Cirino's blog "Your Health Forum," he wanted to give kids a chance to express themselves while also getting some of their emotions out.
"What we started to do was an art contest for art that was inspired through the way that people were addressing the situation of the COVID-19 social isolation measures…I thought this would be a great way for children to express their creative outlet in a positive way to work with their emotional experience," Dr. Cirino said.
For Matias, his inspiration is his mom and her art, but he also gained some motivation from looking out behind his Lake Oswego home. 
"In our backyard, we have a tiny little pond. Like every day these two little ducks come twice a day," he said. As a duck flew into the pond, he noticed something. "I saw as it landed, a bunch of ripples started going." So, he and his mom spent an afternoon painting a meaningful message that he hopes ripples through his community.
The painting depicts two scenarios; one where a rock– or the coronavirus– drops into a lake and is allowed to spread and create wide ripples in our community. The other side shows the lake is calm because we keep our social distance and prevent the virus from spreading.
"I thought of the ripple effect of how it's spreading because it's so easy to spread," Matias said.
"Matias' piece really captures the ways that we can affect that natural phenomenon," said Dr. Cirino. 
Matias' piece received second place out of 38 entries. Cirino says the goal isn't a high number of submissions, instead to nurture one's emotional reaction to the disease.
"We are essentially the vessel to that. We can literally affect how that ripple continues to generate," he said. "I think it's a message of an idea of a challenge in our life."
The days may be running together, but Matias hopes the day is coming where we can all run together too.
"If we stay home and listen to the rules, there will be less cases," he said. "And eventually we'll hopefully get through this together and it will stop."
Dr. Cirino says that they received enough late entries that they will hold another contest in May. You can see some of the kids' featured artwork here.
RELATED: Beaverton fourth grader sews, donates masks to nonprofit that helped her family
RELATED: 'Family comes first': Oregon dad builds backyard go-kart track for his kids